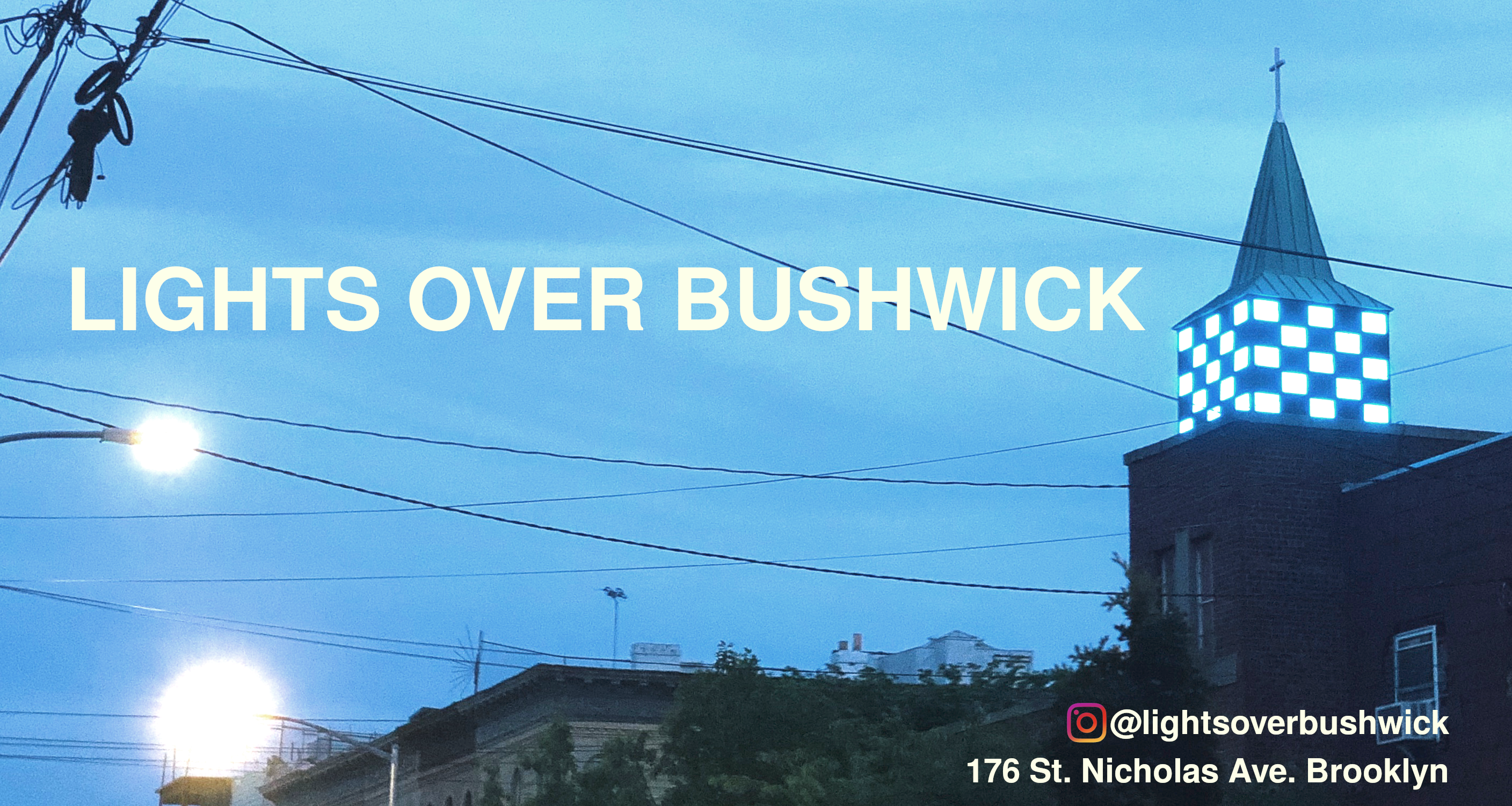 Lights Over Bushwick is a public art installation by Jonathan Sparks that repurposes a mid-century modern steeple that rests on top of Iglesia de la Santa Cruz, an Episcopal church that also houses Bushwick Abbey and the community organizing center Mayday Space.
Historically the church steeple was a focal point of many cities, neighborhoods, and villages. Churches during these times were social, political, economic, and spiritual centers. The church steeple rose high above the skylines of these communities, acting as a physical beacon, guiding citizens and travelers to the city square; a place of social interaction, and public discourse. These steeples, through bell towers, also communicated the time and announced public events such as marriages, funerals, and various religious and civic happenings.
This project resurrects and reinvents the steeple as a beacon for community interaction in our post-modern, pluralistic world. Instead of bells, the installation uses LED lights to communicate with the community, changing color based on either user input via a mobile application or to mark special occasions such as seasonal or special events for the community.
During this time of Covid - 19, as a part of the #lightitblue campaign, the installation will be honoring essential workers by displaying a special animated light show tribute every night from 7-9 EDT.
Lights Over Bushwick is sponsored, in part, by the Greater New York Arts Development Fund of the New York City Department of Cultural Affairs, administered by Brooklyn Arts Council (BAC).
Special thanks to Iglesia de la Santa Cruz, Bushwick Abbey, Mayday Space, Rev. Vince Anderson, and Clara Santamaría Vargas
You can follow Lights Over Bushwick on Instagram @lightsoverbushwick or visit in person at 176 St. Nicholas Ave., Brooklyn
Check out the recent features on News 12, and Brooklyn Daily Eagle